Liquor Stores Point Of Sale (POS)
All modules included. No additional purchases.
Managing stock and keeping track of margins is the key to a successful liquor store. Smart Retail fits these requirements like a hand in a glove and goes the extra mile by providing over a 120 reports that give you control over the profitability of your business. Take a closer look at how this Liquor Store Point Of Sale (POS) meets your business needs.
Key Features for Liquor Store Owners
Stock Control
Pack Control – Receipt and Breaking up
Sales and Promotions pricing
Empties / Returns
Manage stock in many locations
Bar code scanning
Printing product descriptions an bar codes
Supplier Control
Reporting
Staff control – Time and Attendance
Sales Summary / Day / week / Month / Year
Security – Unlimited user access levels
Pastel Integration
Key Features for your Customers
Loyalty programmes
Automatic discounts for big spenders / loyal customers
Create quotes and convert to invoices later
Calculate the value of empties returned
Fast checkout process
Multiple payment methods
Split Billing
Advanced Product and Stock Control
Accurately add product details and track anywhere in your company.
Receive stock
Manage stock that is received in bulk and then distributed in smaller pack sizes
Transfer stock between store rooms or branches
Manage returns
Manage pricing and price rounding
Print bar coded stickers and shelf talkers
Manage margins
Manage promotional products and pricing
and much, much more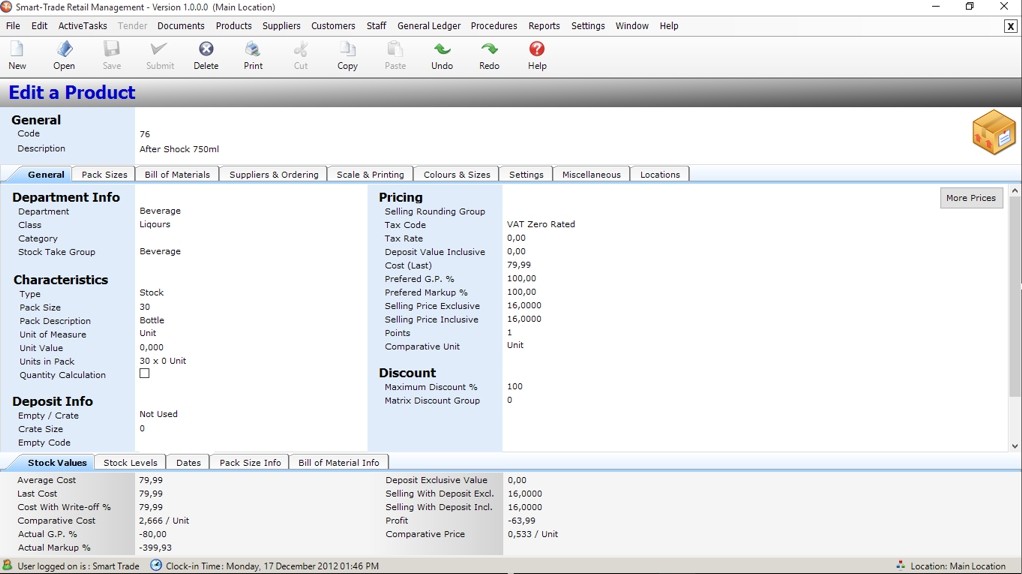 Manage all Aspects of Stock
Manage the products you sell in detail.
The screenshot shows the many product features available.
Product creation and editing
Managing categories, price and stock take groups
Product list
Where they are located – bins and shelves
Pricing
Suppliers / Manufacturers
Price / Bar code labels
To make things easier products can be imported in bulk from a excel in a CSV format.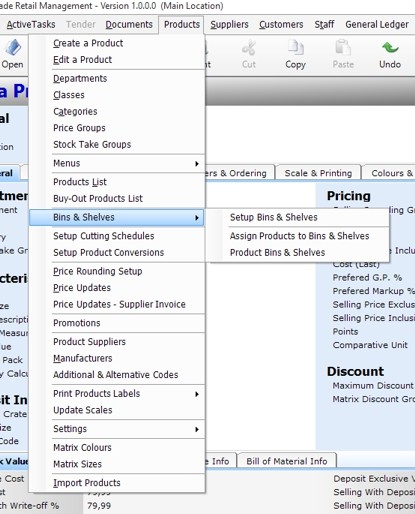 User Friendly Product Menu Creator
Create your menu in Smart Retail with this easy to use interface. Select products from your product list to appear in the correct category or sub category. You have the freedom to setup your products in the way that makes most sense to you.
This makes it easy to find products when invoicing or quoting not using a bar code scanner.
The category and sub categories are displayed in a tree view, making it easy to manage the location of the products within the menu structure.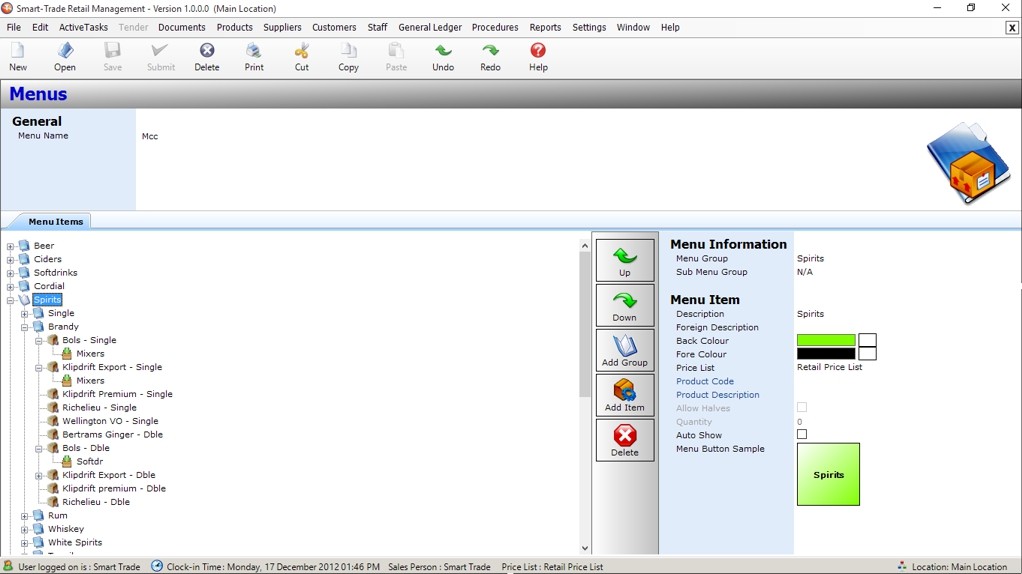 User Friendly Touch Screen
The touch screen makes checking out products and processing products easy and fast. The buttons can be colour coded as you choose and the navigation through products is based on the product categories and sub categories.
Users have limited access to features based on their access rights. This makes it impossible for the teller to checkout products at the incorrect price or with excessive discounts.
Multiple payment methods are integrated as well as split payment (e.g. cash and card on the same sale) options.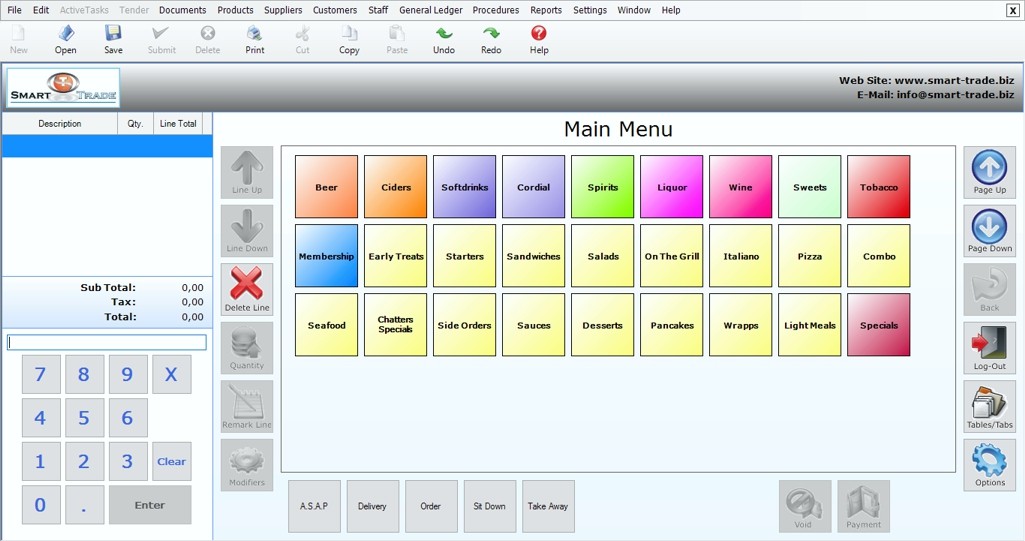 Quick Access Options Screen
Flip quickly from the order screen to system options to access
Financial
Table
Reports and
System features
User access rights determine what areas are accessible to each user.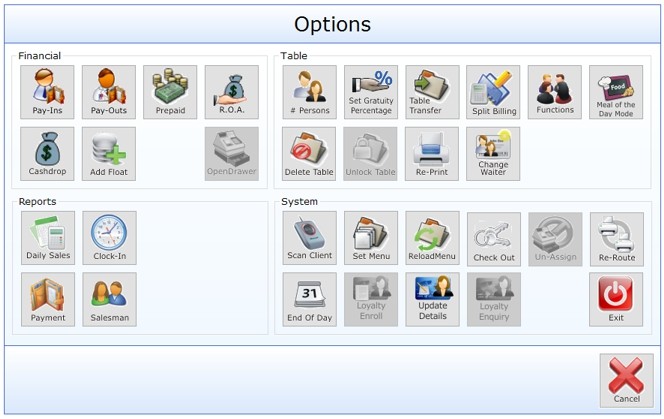 Reports about all aspects of your business
A wide selection of standard reports are available. There's probably more reports than you need available 'out the box'. If there is something specific your require talk to us and we'll see how we can make it possible.
The list on the left is the menu of reports under Audit Trails only (The screen was not big enough to show all available reports).
Extensive, detailed reports give you an accurate, live overview of your business.
Automated Reports
Smart Retail can be setup to email you the reports you want when you want them. Stay in touch with your business even when you are out of the office.